it's very hard to type all in lowercase. try it you'll see - your hands simply want to push that shift key - i'll tell you.
i'm at work. ugh. i hope the day goes quickly. my vertigo is acting up - i'm really feeling dizzy and nauseous. i'm not pregnant so don't ask. :)
adam is back at school today and drop off was a success. terry left him playing sponge bob monopoly at before care. he'll have after care at his school today - i hope it goes well.
sam went in with 10 pairs of underwear, 10 pairs shorts, 10 pairs socks, three extra pairs of shoes, and 8 extra tops. i hope he doesn't go through that many. but at least i'm not the one having to clean up the puddles.
terry freaked me out this weekend. he started looking at the backdoor to our breezeway - investigating one piece of rotted wood. he lifted floorboards, uncovered more. clean it all out, cut new floor joists, bought plywood and is now completely redoing the breezeway. sigh. i really just wanted my kitchen painted and now we are talking pergo, molding, painting, light fixtures, etc. huge huge project. looking at about $1000. i told him after he's finished he's painting the kitchen with me - no excuses.
i'm plugging away at my design team assignments. i finished provo craft for next month and started poppy ink. wait until you see the october kit - it is positively gorgeous. heather burch is the queen of product mixing and funky embellishments. i'm having so much fun and i haven't even finished a layout!
Here's a Provo Craft layout - my favorite of the batch this month...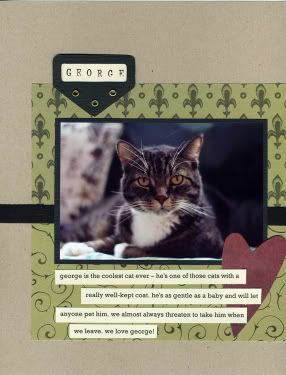 i'm guest designer for cactus pink for september. i'm starting to think my box is lost in the mail. i haven't received it yet and the projects are due on the 14th. please send me good mailman vibes that it arrives today! i really need to knock that one out. if it doesn't arrive today i'll have to email them.
next weekend, terry is taking the boys to the cape on saturday on an overnight to see his brother (who is in with his family from colorado). i made the decision not to go. i told him he would have a better time without me. i can't stand flying by the seat of my pants and i get really ugly when forced to - his brother is notorious for sleeping in late and sitting around. so i told him to just go and i'll stay home. i'll miss the boys but excited to have free time to scrap and i need to clothes shop. i still have to do all the chores - but at least i won't be running around serving meals and cleaning up messes. can you tell i'm excited?
have a great tuesday (that feels like a monday!)