...with a sick little guy who is hopefully recovering. we haven't done much - we went to the library and mcdonald's for lunch. sam is doing awesome with potty training! i'm so stoked.
i organized all of my stamps into target document boxes - i'm psyched - now if i ever use them it will be a miracle!
i posted my first official design team layout for american crafts today. yay me! i think it's pretty cool if i do say so myself - very me. i love it. here it is...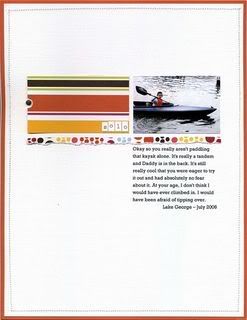 i've straightened up the house a bit. i've got laundry and dishes going. we have a school picnic tonight so we're having pizza - i'm trying to make it so when we get home we just take the kids upstairs and start the bedtime routine without any chores to do after.
i finished my altered item for poppy ink and i'm working on my next layout. i have the photo picked out for the fourth. big sigh of relief cactus pnik pushed off my month of designing until october. yay! the box should come sometime early next week.
well back to cleaning and potty training. tomorrow is friday! woot!